Cesium Melt at the Faircrest Plant
Canton, Ohio
Amount: $780 K
Background: The Timken Company is a leading global manufacturer of highly engineered bearings, alloy steels, and related components and assemblies. Timken operates three steel mills in the vicinity of Canton, Ohio, and uses steel scrap in its melt operations of its plants. In the summer of 2006, the Faircrest Plant received a load of scrap steel for recycle which unknowingly contained cesium source material which was undetected by the site radiation detector alarms. The load of steel was melted and cesium contamination was spread throughout the bag house and stacks resulting in a multi-million dollar cleanup. Timken contacted one of the member companies of the EnergySolutions' multi-company Rapid Radiological Mitigation Team (RRMT). Under RRMT contract, Solutient provided First-Responder services.
Scope of Work:
Major elements of the project completed by Solutient Technologies included
Solutient was one of the first responders onsite and played a lead role in providing project start HAZWOPER training to over 180 workers on the project.
Provided key supervisory and technician personnel for the project and supplied the site with mobile laboratory equipment, i.e.; multi-channel analyzer and alpha-beta counter.
Provided oversight of packaging and shipment of radioactive waste material, and assisted the prime contractor with the preparation of the final report and approval process with the State.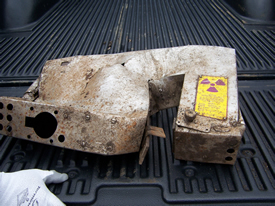 When major decontamination crews were demobilized, Solutient remained onsite and continues to provide health physics support and training to Timken personnel. Solutient has been selected as the primary Corporate Radiological Advisory Group for all matters involving radiological site safety and continues to support The Timken Company.
Most recently, Solutient performed a detailed Risk Assessment of Timken's scrap metal handling procedures and radiation monitoring systems. The analysis included an evaluation of their policies and procedures, equipment and instrumentation, and suppliers. The analysis was used to support decision-making and the design of contingency plans to deal with reasonably foreseeable incidents. The report was presented to senior management and major changes were implemented to their risk management policies and procedures.
We understand the need to complete these types of projects safely and expeditiously to protect the health and safety of residents and workers in areas thought to be contaminated. Allow Solutient to assess your property and provide you with the tools to restore your peace of mind.