Solutient Technologies recognizes that your goal is to handle staffing requirements with your existing talent. However, staff augmentation is an effective outsourcing strategy which allows for quickly staffing a project when you have limited resources, expertise or time in the schedule.
Certain projects may require specific contract personnel to supplement an organization's EH&S staff to meet specific technical or operational requirements. Other times, an entire team may be required to complete a complex, time-critical project. Either way, Solutient can provide professional, highly skilled personnel to support or manage all phases of your next project.
Solutient Technologies provides various professional services on a time and material basis, or on a fixed price contract basis, depending on the project requirements. Such services would include, but not limited to the following personnel:
Certified Health Physicists
Health Physics Engineers
Radiological Engineers
Industrial Hygienists
Civil and Construction Engineers
Radiation Safety Officer
Health & Safety (OSHA) Compliance Specialists
Waste Management Specialists
Regulatory and Compliance Specialists
Equipment Operators
Decontamination Technicians
Health Physics Technicians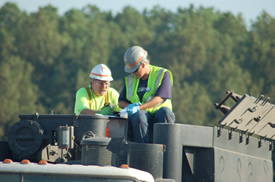 Solutient Technologies provides quality remediation and decontamination technicians, and equipment operators skilled in the use of most radiological instrumentation and operation of most decontamination equipment. All technicians receive continuing training in hazardous materials management (HAZWOPER), radiological safety, respirator use and maintenance, confined space entry procedures, forklift operations, and other OSHA related training.
After you have evaluated your existing staff and determined which additional resources are required, give us a call. We'll help you improve your efficiency and increase your profitability.
Solutient Technologies has earned a solid reputation as a small business industry leader and national provider of full-scope radiological services, environmental consulting, and remediation services designed to meet the varied needs of governmental and industrial clients. Our technical excellence, depth of resources, financial strength, national presence, and client focus are the basis for our reputation of providing responsive, high quality, and innovative services.
We understand the need to complete these types of projects safely and expeditiously to protect the health and safety of residents and workers in areas thought to be contaminated. Allow Solutient to assess your property and provide you with the tools to restore your peace of mind.