Hazardous Materials Management
Many remediation projects have multiple hazards which demands that highly trained professionals properly inventory, package, transport, and dispose of a wide variety of hazardous and radioactive wastes.
Solutient Technologies utilizes a Total Waste Management (TWM) approach for characterizing, segregating, stabilizing, packing, and disposing of all RCRA, TSCA and radioactive wastes from our clients' facilities, dramatically reducing project costs while ensuring regulatory compliance.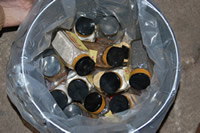 Solutient provides cost-effective preparation, transportation and recycling or disposal of waste laboratory reagents from private and public laboratories, academic facilities, R&D centers, and governmental clients.
Our trained professionals properly identify and categorize all waste materials, satisfy label and packing requirements to meet DOT and disposal site criteria, and provide state-of-the-art recycling and disposal services. All services are performed with strict adherence to all applicable EPA, DOT and OSHA regulations.
Other Regulated Materials
From small quantities to large volumes of material, Solutient can manage a variety of common hazardous wastes found in industrial facilities and public institutions such as:
Asbestos Containing Material (ACM)
Mercury and Mercury Compounds
Polychlorinated Biphenyls (PCB's)
Lead and Lead Compounds
Solutient provides experienced and professional mold inspection, sampling, and remediation services for the commercial, residential and industrial community throughout the United States. Solutient's staff provides a wide range of mold consulting and environmental consulting services.
Regulated Materials Management
RCRA Hazardous Wastes
Mercury and Mercury Compounds
Lead and Lead Compounds
Mixed Wastes
Asbestos Containing Materials
PCB's
Black Mold
Solutient Technologies has earned a solid reputation as a small business industry leader and national provider of full-scope radiological services, environmental consulting, and remediation services designed to meet the varied needs of governmental and industrial clients. Our technical excellence, depth of resources, financial strength, national presence, and client focus are the basis for our reputation of providing responsive, high quality, and innovative services.
We understand the need to complete these types of projects safely and expeditiously to protect the health and safety of residents and workers in areas thought to be contaminated. Allow Solutient to assess your property and provide you with the tools to restore your peace of mind.