Solutient Technologies Response Teams are available 24/7 to mobilize and respond to a variety of incidents anywhere in the United States. Our highly experienced and knowledgeable Response Teams are prepared to handle most emergency response situations involving hazardous and/or radioactive materials whether transportation related accidents or incidents at fixed facility locations.
In many instances, Solutient will have staff on-site within a few hours depending on the geographical location. In all cases, Solutient will be operational within 24 hours from receiving the notification to mobilize. Whether in a coordinating or support role, Solutient can provide on-site emergency response services including spill containment and cleanup, and incident team management while providing all necessary interfaces with regulatory agencies and local emergency response officials.
Emergency Response Hotline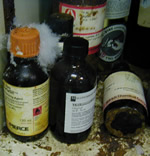 All of our remediation and site services are available on an emergency basis. Should the need arise, please call the Emergency Response Hotline listed above. Our highly trained and experienced Response Teams are ready to respond anytime – night or day.
Solutient highly encourages emergency response planning and preparation. Advanced planning allows us to perform a risk assessment to gather site-specific information prior to the occurrence of an emergency. Contact our main office to set up an appointment for a consultation.
Solutient Technologies has earned a solid reputation as a small business industry leader and national provider of full-scope radiological services, environmental consulting, and remediation services designed to meet the varied needs of governmental and industrial clients. Our technical excellence, depth of resources, financial strength, national presence, and client focus are the basis for our reputation of providing responsive, high quality, and innovative services.
We understand the need to complete these types of projects safely and expeditiously to protect the health and safety of residents and workers in areas thought to be contaminated. Allow Solutient to assess your property and provide you with the tools to restore your peace of mind.