Oil and Gas NORM/TENORM Management
Naturally occurring radioactive material (NORM) is comprised of uranium, radium and radon which are dissolved in very low concentrations during normal reactions between water and rock or soil. While the concentration of NORM in most natural substances is quite low, higher concentrations may be present in by-product waste streams as industrial practices concentrate materials. A common example includes calcium scale precipitated from oil recovery brine or mineral-rich groundwater.
Minerals and mining
Mineral sands
Thorium industry (gas mantles, welding rods)
Oil and gas production
Geothermal energy
Electricity production
Recycling and Decommissioning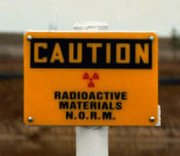 Solutient Technologies can assist you with developing a strategy for managing your NORM-containing material based on our extensive experience in the field of radiation protection and management of radioactive materials.
Regulations governing the management of NORM-containing wastes have been evolving at the state level and as a result, most companies need assistance understanding the regulations and negotiating with the regulators. Solutient can develop and manage a program for you whether it involves employee protection, waste manage, transportation and disposal, or regulatory advice.
Our goal is to provide knowledgeable assistance to you so that you can limit your liability and control your costs. When an industrial process leads to the concentrating of NORM materials it is reclassified as Technologically Enhanced NORM (TENORM) and the regulations for handling and disposing of the material changes. EPA is concerned about TENORM for three reasons.
There is potential to cause elevated exposure to radiation.
The lack of understanding of TENORM materials versus NORM.
Industries generating these materials need additional guidance to help manage and dispose of them in the proper ways that protect people and the environment.
Solutient Technologies understands these differences and can assist in the proper management of TENORM materials.
Solutient Technologies has earned a solid reputation as a small business industry leader and national provider of full-scope radiological services, environmental consulting, and remediation services designed to meet the varied needs of governmental and industrial clients. Our technical excellence, depth of resources, financial strength, national presence, and client focus are the basis for our reputation of providing responsive, high quality, and innovative services.
We understand the need to complete these types of projects safely and expeditiously to protect the health and safety of residents and workers in areas thought to be contaminated. Allow Solutient to assess your property and provide you with the tools to restore your peace of mind.